Yesterday, I took part in my very first Blog Hop and I had so much fun! Again, thanks for all your comments on my page!
Also, I received the very first books I ever won in a contest online, "Spider´s Bite"
and "Magic Bites" (Thank you again Shiloh Walker!), both being the first books in am awesome series. I already own both, so I´m thinking about having my first giveaway next week to share them with you guys.
Unfortunatly, Germay´s performance in the soccer World Cup was quite disapponting yesterday. I´m not a big sports fan, but events like the World Cup are very fun to watch. What about you, do you support your country? Do you own one of the annoying Vuvuzelas? :)
And finally, something I´m exciting about: my sister has finally started to read Urban Fantasy. We had a deal: I choose a book for her and she gets to make a guest post. I have honestly no idea about what she´ll blog (she is actually a doctor, I hope it won´t be too bloody :)), so it´s gonna be a big surprise.
I´ve also planned a review for "Three Days to Dead" by Kelly Meding early this coming week. I´ve just started reading it and so far, it´s very promising!
The last Randomness for today: have you noticed my awesome new buttons for Team Kisten and Team Ethan?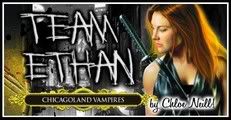 If you wanna have them, go visit
Larissa´s
blog. There, you can find those two and others to grab an post on your page.
So long, have a very nice and relaxing weekend!