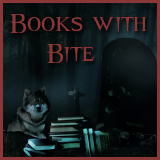 Hello my dear readers!
Once again I´m proud to announce that I´m having another incredibly talented and simply awesome blogger friend of mine over to do a guest post. It´s the wonderful Savannah from Books with Bite!
Meet Savannah!
She´ll be doing a review about Adam Rex´s "Fat Vampire", a book I hadn´t heard about before but whose cover I instantly loved. But let´s listen to Savy what she has to say about the book!
Title: Fat Vampire
Author: Adam Rex
Publisher: Blazer + Bray
Release Date: July 27, 2010
Books: Bought
"Doug Lee is undead quite by accident—attacked by a desperate vampire, he finds himself cursed with being fat and fifteen forever. When he has no luck finding some goth chick with a vampire fetish, he resorts to sucking the blood of cows under cover of the night. But it's just not the same.
Then he meets the new Indian exchange student and falls for her—hard. Yeah, he wants to bite her, but he also wants to prove himself to her. But like the laws of life, love, and high school, the laws of vampire existence are complicated—it's not as easy as studying Dracula. Especially when the star of Vampire Hunters is hot on your trail in an attempt to boost ratings.…"
I choose this book to read and review for being a part of Reading on the Dark Side Urban MANtasty. During this month, Christine from Reading in the Dark side hosted this in order to support and get out the word on reading more books by male authors. Thank you Christine for letting me be a part in this! For more information on Urban MANtasty please visit her site. Thanks!

This book was interesting and hilarious. I love how it was written, from a male point of view, which you don't see much. Also it was written by a male author.
I knew from the moment I layed eyes on this book that I would enjoy it immensely and that I did. Right from the beginning, you were thrown into this geeky, fat boys world of trying to make it as a fat vampire. I felt for him during his hardships. He struggle in feeding, as well in other areas.
I was glad to see he go help through a mentor. Through this he was able to learn more and of course become a better vampire. He also took a chance and finally step up to the plate, becoming the true vampire that he his. But in doing this, his ego went straight to his head and all of the sudden he was "BAD" He end up getting a girlfriend and used her badly. I was disappointed in his choice. While I was glad that he finally came who he was, he made a poor choice in it as well.
In the end, Doug hardships paid off. He went off the find he friends attacker, dubbing him my knight and shining armor. I admit that the ending was a little confusing for me. I'm still not sure what to make of it.
Mr. Rex, did a great job writing this. The plot, drama and suspense was written perfect. I enjoyed reading each and every page of it. Mr. Rex did a great job capturing the voice of a real teenage boy. I was happy as a reader to get a good insight on the character. Doug was not your typical teenage boy and for that I was grateful to see someone who was not popular, or cute from the start.
I give it 5 BITES!
Happy Reading!
Thank you so much Savannah! I loved to read your thoughts and I really hope we can do soemthing together sometime soon!