Now, I hand over my blog to the awesome Lily from Lilium´s Realm.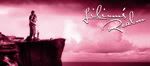 HI Lily! *waves*
First I would like to say a HUGE thank you to Christine for allowing me to blog over here today - I feel honored. If you twitter and follow me you know I have a long standing rival with one Keith Melton. I can't really trace back to where I met him, but I will say he is a trip and a half. I have been giving him a hard time for almost a year now and I finally just read his book Blood Vice. I bought it and TBR'd it based of the "WARNING" in the book - which stole my heart
"Warning: Intense, graphic mafia-related violence, profanity, gangster slang, assassinations, fang punctures, explicit vampire sex, betrayal, greed, murder, gangland warfare, pervasive supernatural mayhem, large-scale explosions, and extremely expensive Italian suits."
*raised eyebrow* See what I mean?
I have not really read very much Urban Fantasy or even Paranormal Romance that is written by men. Not that I choose to avoid them.....there just doesn't seem to be that many out there. Keith Melton is one of those men. I was wary about the book because I knew the author (well as well as you can know anyone 140 charachters at a shot) but I was nervous about reading the book - because what if it sucked? And not in the good vampire way neither. Rest assured - it didn't suck - in the bad way.
We are introduced to a Master Vampire named Karl Vance, who has sworn for the rest of his lifetime to never feed off innocents. Karl is your traditional vampire, he can't do the Holy objects, he can only come out at night, him and silver don't mix and he has to have someone look after his coffin while he's sleeping. Aside from these things, he is a hitman. An excellent one at that. Karl is employed by the Ricardi family to help take over Boston and reign over all - including the Lucatti family.
Maria Ricardi is your typical Mafia princess, if you count the fact that she wants to play with the big boys. Tired of only being seen as Daddy's Girl who cleans the money she is determined to climb the family ladder and prove herself as a Mafiso. She has her father hire Karl on full time to get the job of taking Boston from the Luccattis done. Things are strange about Karl - he won't call her back till after sunset, he walks so quietly she can never hear him approach her and there is just something so dark, dangerous and sexy about him. Fighting for her respect in the family Maria becomes convinced that if she can watch someone get killed, so she can learn to do herself she will be the son her father lost. How wrong she is when it becomes apparent Karl is not what he seems and the enforcer working with the Luccatti family is more than your average rival. After the harrowing introduction to what Karl really is:
He smiled but there was nothing nice about it. "Why were you there tonight?"
"You work for me. Don't make me say it again."
His smile widened - became predatory...almost...anticipatory? And that sent waves of cold washing down her skin from head to foot.
"You're trying my patience. You should remember you have far more to lose than I."
Damn him. "I was curious."
"About what? About me?"
"I wanted to watch someone die."
He thought about it a moment. "Fair enough. Some urges are not pretty."
Make no mistake, this is not the vampire to cuddle with and take long walks on the beach, he is a monster - but he has a strong moral code. Karl did not choose his life and does his best to help The Order of the Thorn - a religious group out to kill ALL monsters of the night. As twists and turns become more and more convoluted in the plot line it becomes clear that some grudges last more than one lifetime, and sometimes, blood doesn't make you family. This book was very well written and well researched in my opinion. He mentions a lot of weapons in this book and I have to say - he did his homework. I was left hanging at the end of Blood Vice and I have already been harassing him for book two. Hats off to Keith Melton for this one.